Sigh. I can't complain to American Airlines. I mean, I can complain about the fact that I booked K's ticket and she doesn't get covered under my gold status (stupid!) but I can't complain about them canceling 3 flights to Halifax (Sunday evening, Monday morning and Monday evening). We got to the airport yesterday morning and our flight was canceled. We decided to not do the stand-by stuff and had seats booked on Wednesday evening's flight. I haven't been to Halifax in 3 years and I haven't seen what my aunt has done to the place in that time. I love both my aunts and my grandmother dearly and it was hard to choose where to go this year (Montreal, Bathurst (NB) or Halifax) but I thought it would be fun and different to go to Halifax (although Montreal would have been easier to get to via train. I think that might be next year's trip for me (after going to Los Angeles). So we're killing a few days here before we try again. On the plus side, because my ticket was entirely on points with total flexibility I was able to change my departure date from Saturday to Sunday. I have to work next week so I do need to come back but at least I'll get 3 full days with my aunt and her fiancee.
Anyways, so there was some silver lining in all this. A nice gift I ordered for my aunt arrived yesterday. And, a surprise, earrings I had ordered for K that I had totally forgotten I had ordered — arrived. So I got lots of good boy points for that yesterday.  *insert big grin here* Anyways, so we lounged around yesterday, munching on not so healthy (but yet vegan) food and watching The Dresden Files (really good show — too bad it was canceled) on hulu and then Kung Fu Panda. It was great. Today we're gonna go with a friend to see The Day the Earth Stood Still. I never saw the original movie but this should be fun. And then, Wednesday evening we (**HOPEFULLY**) fly out to Halifax.
But an interesting thing happened when we were at the airport. I was "sir'd" constantly! I'm still working on the washroom thing but otherwise, I am definitely passing more often than before. It was rather surprising to me. I guess I forget that as I transition and because I don't have regular contact with others, those that do meet me are finally seeing me as myself. There are some things I do have to work on. Socially, I'm a guy. We were leaving the counter after re-booking our tickets and a guy asked K what was going on. I answered for her and the guy totally ignored her, focusing on me. I didn't even realize I had done this and was rather horrified that I had been so rude. This is a trait I've always had and something that I need to break. It's not that K can't answer but it feels like a social desire to be heard, particularly with other men. *insert male grunting here*
But I am running into the washroom issue at this point as well. I haven't been challenged yet about using the "wrong" washroom but I suspect that will come soon. I'm gonna have to screw up better resolve about using the correct gendered washroom. How I wish JFK had family washrooms or handicap washroom, then I could use it without feeling trapped by gender. I don't know of a single trans person who doesn't fear public gendered washrooms and the safety issues that lie therein. I know in NYC, I'm protected (I have my little washroom gender card) by law but laws are more reactive than proactive. I'll still have social stigma attached to me and to washroom usage. *deep sigh*
Ah well, so while K sleeps I figured I'd muck about here and try to continue farther into Zinn's A People's History of the United States. If you haven't read it, you should. It's an eyeopener. I also figured I'd check out the blogs I frequent and ran across this at The Verbosery so I thought I'd try it for this blog. Here's the results:
ISFP – The Artists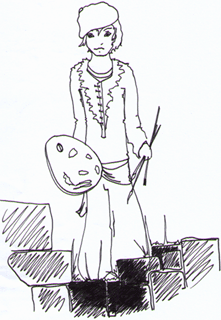 The gentle and compassionate type. They are especially attuned their inner values and what other people need. They are not friends of many words and tend to take the worries of the world on their shoulders. They tend to follow the path of least resistance and have to look out not to be taken advantage of.
They often prefer working quietly, behind the scene as a part of a team. They tend to value their friends and family above what they do for a living.
Who knew, eh? The blog is definitely interesting to say the least.